Student Advocates for Essential Needs Security

Student Advocates for Essential Needs Security (SAENS) is a Registered Student Organization within Michigan State University. It is open to currently enrolled undergraduate and graduate students from all disciplines across the university.
Unfortunately, homelessness and the struggle to meet essential needs does not end once a student arrives at college. SAENS will work with MSU's on and off-campus resources to raise awareness and support the needs of students related to housing, food, and basic care items.
SAENS will advocate on behalf of students for the equitable distribution and practice of providing for the essential needs of students. Essential needs as it relates to this purpose are defined as affordable housing, access to healthy food options, and access to the hygiene and other resources that contribute to student success.
Scholarships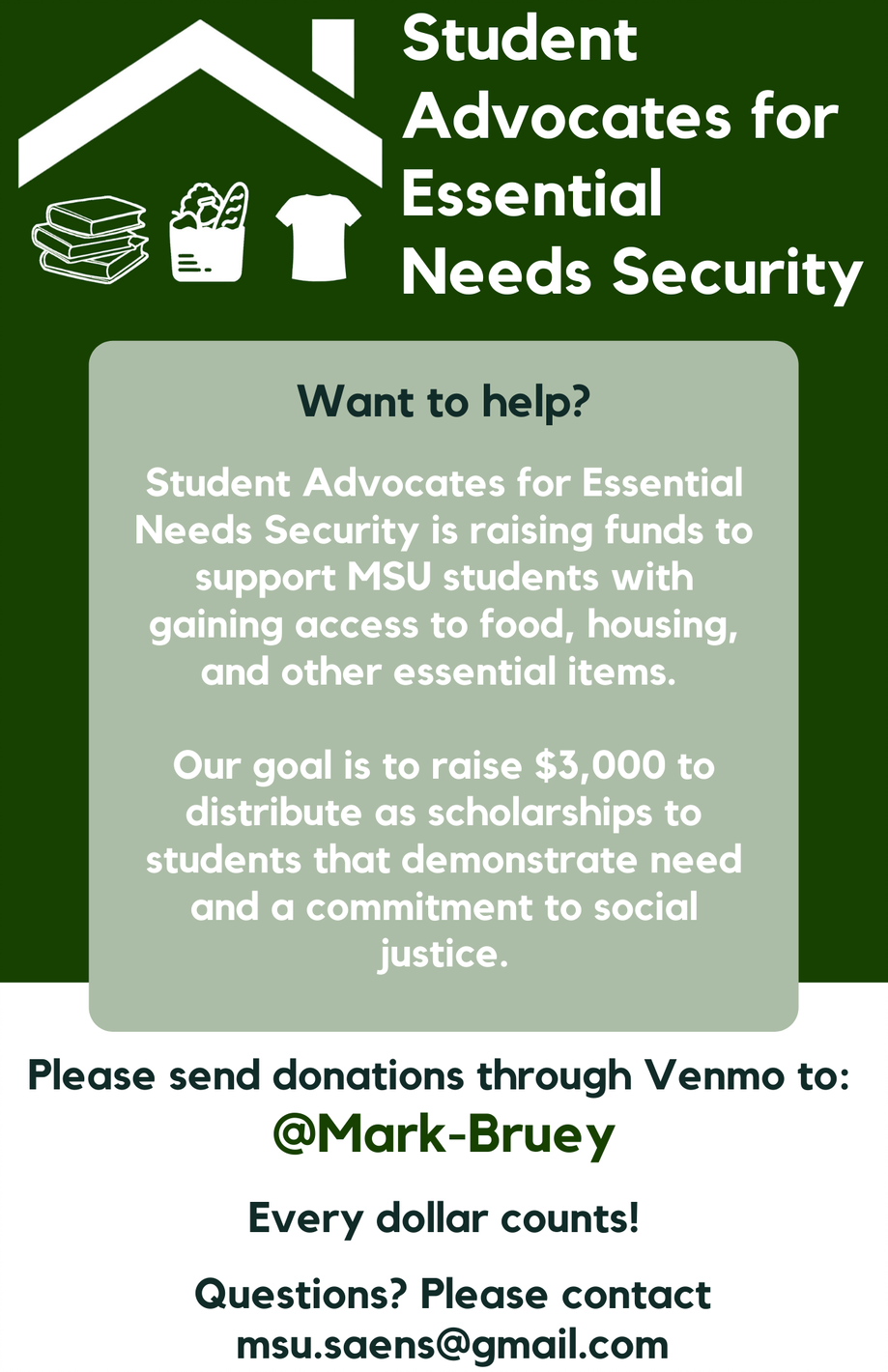 Student Advocates for Essential Needs Security is once again working to raise money to provide a scholarship to students to assist with meeting their essential needs. Last year, we were able to provide three $500 scholarships to students, specifically focused on students from groups that aligned with the SAENS mission. We felt this was a huge success, but we want to do more! We are hoping to fundraise $3,000 this year for three $1,000 scholarships. We know that this can really make a difference for MSU students. We would appreciate any dollar donation to the Venmo account @Mark-Bruey  (the group's treasurer).
We appreciate your support in supporting students' essential needs security. If we can provide any other assistance or if you have any questions, feel free to contact us at msu.saens@gmail.com. You can also reach out to our faculty advisor, Lily Burnstein, at burnst14@msu.edu.
SAENS Resource Guide
The SAENS Resource Guide has tons of information regarding mental health, physical health, food and shelter resources as well as other helpful information.
Download the SAENS Resource Guide
Contact
Please contact advisors Kimberly Steed-Page, steedkim@msu.edu, or Lily Burnstein, burnst14@msu.edu, for more information.
Social Media
Vision
To raise awareness, incentivize the work and investment of stakeholders, and educate faculty, students, and community members about the prevalence of student homelessness and food insecurity for University students
Mission
To provide a resource fair, speakers panel, community champion award, and scholarships to students in the spirit of providing for students' basic needs.
Constitution
Download the Student Advocates for Essential Needs Security constitution.