Flint Community Initiative
Leveraging community assets for Flint's future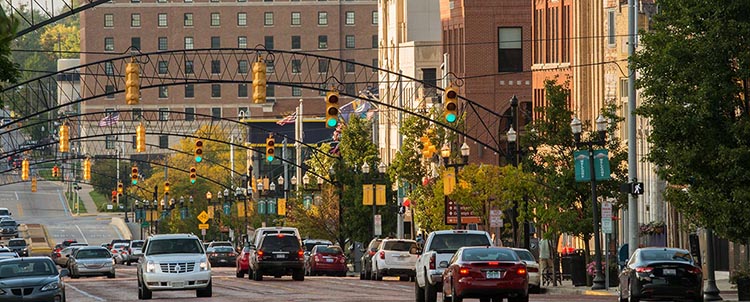 Service Learning Opportunity in Flint
Minimum of $3000 scholarship is included!
The Flint Community Initiative prepares and invests MSU's most vital resource -- the time, gifts and talents of students passionate to make a difference -- to engage in meaningful work in nonprofit community organizations in Flint while providing our students with a unique opportunity to develop skills in hands-on, collaborative community development projects.
The Context: Flint in the Aftermath of the Water Crisis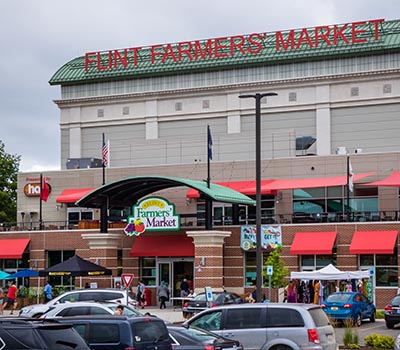 Precipitated by cost-saving measures that led to the poisoning of the water supply, the Flint Water Crisis has served as a catalyst for community change during the past five years. Yet like many Rustbelt cities, the city had struggled with the effects of decades-long economic disinvestment prior to the crisis. The magnitude of the crisis, however, spurred a bottoms-up, collaborative approach to creating authentic community development as a path forward to enhance the health and well-being of the city and its residents.
Our Mission
The Flint Community Initiative began its internship program during the Summer of 2019. At the core of our mission is the belief that the key to revitalizing distressed areas is to look at neighborhoods and communities not for their deficits but for their assets. Our internship program pairs students and leaders of nonprofit community and civic organizations to engage in collaborative, community-driven projects that help to expand community assets and contribute to a thriving future for Flint residents.
Program Essentials
The program runs for 10 weeks during the summer plus one intensive weekend orientation (June 1 - August 13, 2021).
Faculty and staff work with community partners to place students for a community-based internship project experience.
Students 

enrolled in 6+ credits 

will receive a minimum of $3,000 scholarship to defray living, work, and transportation expenses.
Open to advanced undergraduate and graduate students across every major and College.

Students take a 3 credit project-based skills course (SW 492/ SSC 490 - Flint Community Initiative: Asset-Based Approaches to Community Work), plus 3-6 internship credits (SSC 493).

Students interested in taking only the skills course (SW 492/SSC 490 - Asset Based Approaches to Community Work) should contact program coordinator, Monica Villarreal, villar42@msu.edu.

Students attend class and internship remotely. Depending on COVID-19 and student proximity to Genesee County there may be opportunities for in-person experiences.
Faculty leaders work with students and their community supervisors to achieve a common goal: the completion of one or more products from a high-impact project that build upon the ways our nonprofit agency partners utilize and leverage existing assets to address social, political, and economic priorities within the community.
During the internship, students will have opportunities to network and connect with community leaders representing various backgrounds and work experiences.
Proposed Community Projects
Neighborhood Group Capacity Building Tool Kit - Students will work with the Neighborhood Engagement Hub and Flint residents to create a tool kit that will help residents grow their capacity for community work.
Resource Guide for Improving Neighborhood Conditions - Students will work with the City of Flint Planning Department and Blight Department to further develop a resource directory to guide Flint residents on how to navigate the various agencies and organizations that provide material resources to Flint residents. Students will also develop the framework for a Flint Problem Tracker App, which will streamline and refine the reporting procedures that accompany the resource guide.
Reflections on the "School to Prison" Pipeline – Students will work with the M.A.D.E. Institute and Flint residents, the majority of whom are returning citizens to develop photo stories that show the impact of school practices on life trajectories in an effort to bring awareness to the school to prison pipeline and advocate for community change.
Archiving Flint's Historical Legacy for Community Culture-Based Education Modules – Students will work with the Community Based Organization Partners, Flint residents and Mrs. E. Hill De Loney to collect, archive and preserve materials with the creation of mini-documentaries on topics such as: African Diaspora, American Slavery, Civil Rights Organizing, Race and Flint.
Neighborhood Small Grants Program Evaluation Project – Students will work with the Community Foundation of Greater Flint and Flint community organizations to assess and test out new ways of data collection and reporting, to inform program/project evaluation which will assist the CFGF and community organizations receiving grants to create more meaningful change in their neighborhoods and in the City of Flint. Students will also convene virtual grantee meetings and help facilitate focus groups.
Application and Contact Info
Complete the College of Social Science Study Away application. Select Flint Community Initiative at the summer semester programs dropdown menu. Please include a current résumé and a brief statement of interest describing reasons for applying to the program, career goals or specific interests, and internship preferences.
The Flint Community Initiative has no application fee and no program fee. Applications are due April 30, 2021.
To learn more about the program, contact: Monica Villarreal, villar42@msu.edu
The program runs June 1st - August 13th.
Scholars Showcase Ceremony at the Applewood Estate from Summer 2019
Please visit our Scholars Showcase Ceremony event page to learn more about our student's experiences during the summer of 2019.