Field Education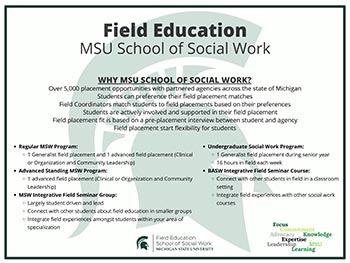 Field education for both the BASW and MSW programs will provide exciting opportunities to gain critical experience in a professional environment. We work with over 850 programs throughout the state of Michigan and abroad. We strive to be flexible and responsive to the needs of students, field instructors, and agencies to ensure a lasting and valuable experience for everyone.
All students participate in an integrative field seminar facilitated by an LMSW. The seminars will integrate the knowledge, skills, experience and values from the classroom and the field placement to enhance overall student competence.
If you are from an agency that is interested in hosting students, please fill out our Field Education Agency Inquiry form.
Download the Field Education Manual.