Admissions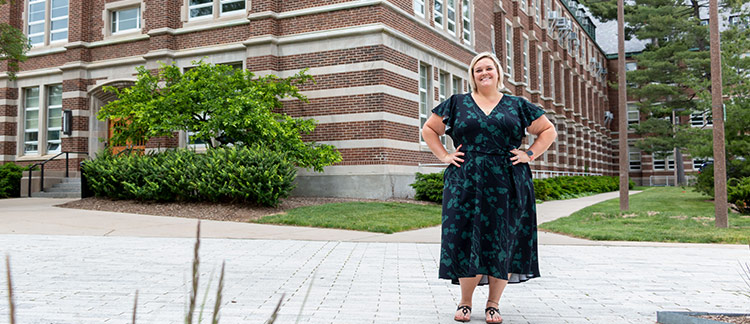 Enrollment for the MSU BASW Program is limited and competitive. Social Work students are enrolled in the University at two levels:
As social work preference students (new freshmen, transfer students, and those who change their major preferences during the freshman and sophomore years prior to earning 56 credits).
As social work major admits (students who have completed all SW prerequisites and have applied and been accepted into the School of Social Work as juniors). Acceptance into the major as juniors entitles students to enroll in upper-level social work courses required for the BASW degree.
Admission to the upper-level program is competitive, and enrollment as a social work preference student offers no guarantee of admission to the BASW program as a social work major.
If on a four-year plan, students typically apply for admission to the upper level program in the spring of their sophomore year. The goal is to have the upper level program be your last two years at MSU. This means you would want to start the program with around 60 credits and Junior standing. Not sure when you should apply based on the courses you have taken? Please contact BASW Academic Advisor Jamie Griggs (link to griggsj5@msu.edu) to review your course plan.
Academic Requirements for the BASW degree and the 7 courses you need to complete to begin the program can be found on the Office of the Registrar website.
NOTE: Course requirements in 3a must be completed by the start of the program (fall) not at the time of admission application. However, you must have a clear path to be able to complete all of the 7 prerequisite courses by the end of summer session b.
Admission Questions?
Visit our BASW FAQs.
Having issues with forms or submission? Contact baswinfo@ssc.msu.edu.
Have questions about admission? Would like support with writing your essay or resume? Want to talk about social work careers and professional development?
Contact our BASW Student Support Coordinator Emily Halling at halling3@msu.edu or make a Zoom appointment here.
Transfer Students – You must apply to MSU PRIOR to applying to the BASW Program. To apply to MSU as a transfer student, first visit the Admissions office. Please contact Monaca Eaton, eatonmon@msu.edu if you have questions.
Application Dates and Process
NOTE: The essay directions for 2023 applications have been updated.
Admission slots are limited for our Fall 23 cohort. We review applications as they are submitted. Please note, once we hit our cohort capacity, we will not be able to accept applications for this cohort. If space in the cohort remains, additional dates may be posted. The earlier you submit your application, the stronger your chance of there being space in the cohort. Admission slots are reserved for transfer students and their applications for our FS23 cohort will be reviewed through August 20, 2023.
Application Info Sessions
Join our student support coordinator Emily Halling for a Zoom session to learn more about the social work major, the application process, and to answer any questions you have about your application.
Application Materials
******************************************************
As noted below, you must fill in these documents and save them using Adobe Acrobat. Using Preview on a Mac (and possibly others) will result in incomplete data and we will be unable to process your application.
******************************************************
To be considered for admission you will need to complete five admission documents.
The pdf files above must be downloaded (right click and select "Save Link As") and opened with Adobe Acrobat (other software may not allow you to fill in the fields electronically) to fill them in electronically. You can also download all the files in a zip file. Double click the zip file to extract and then double click each file to open in Adobe Acrobat.
How to Submit your Application
We are no longer accepting applications for our Fall 2023 Cohort. Admissions will open for the Fall 2024 Cohort January 15, 2024.
Professional Licensure and Certification: Federal regulations require MSU to publicly disclose, for each educational program designed to meet the educational requirements for a specific professional license or certification required for employment in an occupation (or advertised as meeting those requirements), information about whether program completion would meet those requirements in a state. These public disclosure requirements apply to all programs, regardless of their modality (i.e., on-ground, online, and hybrid programs). MSU discloses the required information for its Bachelors and Masters Programs in Social Work on pages 74-77 of this table. All current and prospective students are encouraged to contact the applicable professional licensure/certification boards in their respective states for additional information regarding professional licensure/certification requirements, including, without limitation, information regarding any non-educational requirements (such as post-doctoral supervision, licensing examination). The information in the table should not be construed as guaranteeing that any particular professional licensure/certification authority will approve a student's application; nor should the information in the table be read to imply that other requirements for professional licensure/certification do not exist or that other requirements for professional licensure/certification have been determined to have been met by MSU's program/course, or that any necessary approvals for clinical or other experiential learning placements are secured by virtue of a student's enrollment at MSU. State professional licensure/certification requirements are subject to change at any time. If you need assistance or have any questions, please contact your academic advisor.
Admission Information for Transfer Students
A number of upper-division transfer students will be admitted into Social Work on a competitive basis. Students enrolled in other colleges or universities normally transfer at the end of their sophomore year. Transfer students must apply for admission to Michigan State University before they can apply to the School of Social Work. Applications for admission to the University should be submitted in the spring semester of their sophomore year.
You will work with the MSU Admissions Office to apply as a transfer student to MSU. Information on transferring to MSU can be found on the Admissions website. You are strongly encouraged to visit campus for a transfer student program prior to applying for admission. Transfer student programs are conducted daily, M-F and will include information about the admissions process, transferring credit, academic programs, student life, university housing, and career services and placement. You can reserve a seat for this program on the Admissions website.
Once a transfer student has been accepted by MSU, the University Admissions Office will send the supplemental application for the School of Social Work. Admitted students should plan to begin their Social Work studies in the Fall semester. If you are applying to MSU as a transfer student interested in social work, please email Monaca Eaton at eatonmon@msu.edu for assistance.
Michigan State University's Master of Social Work (MSW) programs and its Bachelor of Arts in Social Work (BASW) program are fully accredited by the Council on Social Work Education (CSWE) and designed to meet the State of Michigan's social work licensing criteria. However, MSU cannot confirm whether these programs meet licensure requirements in states other than Michigan. Students who may be seeking professional licensure elsewhere will need to check with the appropriate licensing board in that state to verify that the program meets the requirement for licensure.

Each state's social work licensing requirements can be found HERE.