Dr. Joanne Riebschleger honored for her outstanding research
April 7, 2021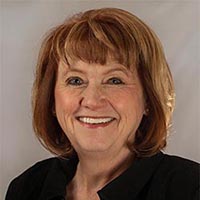 On March 31, 2021, the Associated Students of Michigan State University (ASMSU) honored Dr. Joanne Riebschleger with the 2021 Outstanding Research Award.
Dr. Riebschleger is the director of the PhD Program in the MSU School of Social Work and an active researcher in the field of mental health and youth education. Her research led to the Youth Education and Support (YES) Program—a curriculum dedicated to delivering comprehensive mental health education materials to youth through engaging discussions, educational workshops, and assessments. In addition to this, she has accumulated a massive wealth of knowledge to create accessible mental health resources to youth in the website mhiteens.org.
Former MSU PhD student Dr. Daniel Cavanaugh said, "Joanne has been continuously involved in mentorship programs for undergraduate, master's, and doctoral students. Joanne supervises students every semester and has maintained a multi-level research team to teach students about mental health literacy and mental health literacy research. She has participated in and mentored students in the Provost's Undergraduate Research Initiative, The University Undergraduate Research and Arts Forum, and Graduate Assistantships every semester. In addition to supporting young people in their acquisition of knowledge in how research is conducted, she also mentors students in how to present research. Joanne has facilitated the development of opportunities for her students to attend research conferences in Michigan, Florida, Colorado, Switzerland, and Australia."
Current BASW student Erin Kramer said, "Dr. Riebschleger's open-mindedness, attention to detail, and loyalty to the University have endeared her to her colleagues and students. She is a champion for higher education with a tireless commitment to serving youth and the social work student community. She made a difference at our University, exemplified the mission of the University, and has positively impacted the field of youth mental health accessibility. Her skills, knowledge, willingness to help others, and dedication to our University and the community inspire me."