Bachelor of Arts in Social Work
BASW Program Mission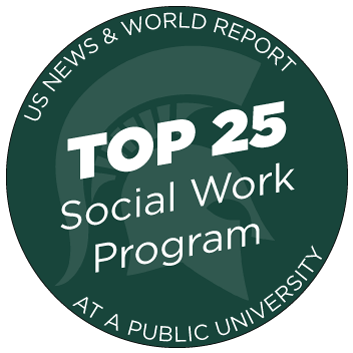 We are dedicated to educating students for ethical, competent, responsive and innovative generalist social work practice. Grounded in the liberal arts and social sciences, the BASW program emphasizes person-in-environment framework within a systems perspective. We teach students about service and social justice as we prepare them for generalist social work practice and public service with diverse individuals, families, groups, organizations and communities. With attention to critical thinking, policy and research, we also prepare students for graduate-level study in social work and related fields.
Please download our BASW program brochure to learn more about what it means to get your BASW degree from Michigan State University.
Michigan State University's Master of Social Work (MSW) programs and its Bachelor of Arts in Social Work (BASW) program are fully-accredited by the Council on Social Work Education (CSWE) and designed to meet the State of Michigan's social work licensing criteria. However, MSU cannot confirm whether these programs meet licensure requirements in states other than Michigan. Students who may be seeking professional licensure elsewhere will need to check with the appropriate licensing board in that state to verify that the program meets the requirement for licensure. Each state's social work licensing requirements can be found at: http://www.socialworklicensure.org/articles/social-work-license-requirem...
+
Professional Licensure and Certification Information
Professional Licensure and Certification: Federal regulations require MSU to publicly disclose, for each educational program designed to meet the educational requirements for a specific professional license or certification required for employment in an occupation (or advertised as meeting those requirements), information about whether program completion would meet those requirements in a state. These public disclosure requirements apply to all programs, regardless of their modality (i.e., on-ground, online, and hybrid programs). MSU discloses the required information for its Bachelors and Masters Programs in Social Work on pages 74-77 of this table. All current and prospective students are encouraged to contact the applicable professional licensure/certification boards in their respective states for additional information regarding professional licensure/certification requirements, including, without limitation, information regarding any non-educational requirements (such as post-doctoral supervision, licensing examination). The information in the table should not be construed as guaranteeing that any particular professional licensure/certification authority will approve a student's application; nor should the information in the table be read to imply that other requirements for professional licensure/certification do not exist or that other requirements for professional licensure/certification have been determined to have been met by MSU's program/course, or that any necessary approvals for clinical or other experiential learning placements are secured by virtue of a student's enrollment at MSU. State professional licensure/certification requirements are subject to change at any time. If you need assistance or have any questions, please contact your academic advisor.