Scholarships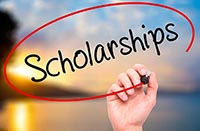 Scholarship applications are now open! The deadline to apply for 2021-2022 scholarships is April 15. The scholarships will be awarded in Fall 2021.
Scholarships are made possible through the following special endowments to the School of Social Work.
Gordon & Gladys Aldridge Memorial Fellowship
Dr. Mary Bremer Barron Scholarship
Future Leaders Endowed Scholarship in SW
Richard D. Gardner Memorial Scholarship
Henry-Lane Scholarship
Robert Little Scholarship
Janet Sisson Tift Scholarship
Marcella Gast Schalon Scholarship
Cheryl and William Sickle Scholarship
Please visit our scholarship application to get started. 
As part of the application, you will be asked to write 500 to 750 words to describe your current area of interest, your professional goals and what you hope to contribute to the field, what experiences have contributed to date in your achievement of those goals and how a scholarship would contribute to your success in the program.
Scholarships are awarded based on a combination of the following criteria:
Clear professional goals and promise for future contributions to the field
Area of interest (e.g., substance abuse, child welfare, kinship care, aging, etc.)
Academic achievement
Financial need