Racial and Social Justice Collaborative
Read the RSJC Blog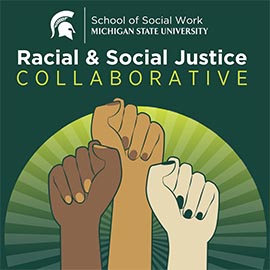 The Racial and Social Justice Collaborative, is an initiative of the School of Social Work Director, in conjunction with the Equity, Diversity, and Inclusion Committee. This Collaborative is composed of all members of the School of Social Work Community. It will function as a facilitating entity that every member of the School has access to as we strive to make sure our work, communities, and selves are anti-racist and operate in the benefit of racial and social justice.
There are two Co-Facilitators who will serve as points of contact. However, this Collaborative belongs to everyone in the School of Social Work Community and we intend for it to be a place for fellowship, resource sharing, team building, and discourse.
We will cultivate spaces for students, faculty, and staff to share ideas and insights for the School, as well as regular spaces to share their own experiences. We understand that racial and social justice work is very difficult and will work to ensure that we employ truly inclusive decision making. We will operate through shared power among all interested and invested parties, and we will use group problem solving input methods. Working from shared goals, we will always welcome emotions and differing world views in the interest of diversity, equity, and inclusion.
See the Racial and Social Justice page on hcommons.org for the latest meeting information, events, resources, and more.
Mission Statement
The MSU SSW Racial and Social Justice Collaborative works to highlight and enhance systemic investment in racial and social justice through engagement of all school members, including faculty, staff, students, and community members. This group builds a collaborative framework to implement the SSW's focus on racial and social justice.
Vision
To support the MSU SSW in understanding, valuing, supporting, and protecting every member of our School on issues of racial and social justice, while maintaining the highest quality education, research, and service to the greater community.
Objectives
Collaborate with programs within the School to cultivate internal trainers/speakers and invite external leaders to share their expertise on racial and social justice matters
Explore developing collaborative work through a Michigan Racial Justice Consortium with other universities in Michigan
Engage in student, staff, and faculty recruitment and retention process to ensure opportunities for racial diversity are fully implemented
Engage current students in regular town halls to ensure their voice and experiences relating to racial and social justice matters are shared widely across all campuses and program options
Partner with current SSW student groups to amplify student voice and opportunities to engage in various School processes in the interest of racial and social justice
Host interns and student workers to assist with events, research projects, and other work to advance the mission of the Collaborative
Work with the Administrative Team to support inclusive School communication on sensitive topics
Publish blogs based on current events and work happening around the School to highlight and our School as a prominent voice in the University and among peer institutions doing racial and social justice and equity work
Develop and plan process and outcome evaluation of the Collaborative
Our remaining objectives are led by the work that everyone around the school is doing, therefore we look forward to hearing about everyone's current projects and investment.
Invitation to Participate
In keeping with the value of inclusion, below is a survey designed to gauge your experiences and suggestions on many topics relating to the Collaborative. We would like to gather information to guide our initial direction and interests. Please complete the survey and join in the process of launching this venture.
Meet Our Students
Trisha Washburn

I'm Trisha Washburn. I'm a graduate student in the part–time MSW OCL track. I am in my second year and am interning with the Racial and Social Justice Collaborative. From the age of seventeen, I have been extremely passionate about world hunger in developing countries. I was very distraught over the numbers of starving people and daily deaths from starvation knowing that these were mostly People of Color in Africa and Asia. What is even more disturbing is that there is more than enough food in the world for everyone.

More concerns came to me like people that don't have a bed and sleep on the cold cement, people that don't have a shower or clothes, and people that can't see the doctor or get access to medicine or freshwater. I tried to imagine experiencing this and it fueled a fire in me. I decided that I wanted my career goal to be to work overseas with underprivileged populations that were suffering from famine, war, displacement, starvation, and a lack of basic needs.

I got a bachelor's degree in Anthropology from Central Michigan University and volunteered to work with the homeless and abused and battered women in domestic violence shelters. I volunteered for food pantries, American Red Cross, United Way, Campus Grow, and Salvation Army helping people that were in emergency poverty. I then served in AmeriCorps State and National Michigan's Campaign to End Homelessness. Then I worked for Community Mental Health helping people with mental instabilities get back on their feet, and I coordinated admittances and discharges in the Intensive Care Unit. I then worked for a homeless agency and a foster care agency.

I now am volunteering for American Red Cross Disaster Action Team and Service to Armed Forces where I help disaster victims, military veterans, and active-duty service members. I have seen so much suffering on so many levels in so many ways that are more than just starvation. While being in graduate school and while I have interned with the Racial and Social Justice Collaborative, I have learned how race still plays a role as to who will get the best health care, housing, education, employment, good income, and the least chances of unfair treatment with the legal or prison system.

Race has affected all the work I've done, and I didn't even know it. With the knowledge, I learn with this degree at MSU and through the Racial and Social Justice Collaborative, I want to work for the state where I conduct research on social inequality and inequity issues and create and implement policies that ensure everyone of all groups have access to standard housing, decent jobs, good income, access to health care, good education, fairness in the legal system, and nutrition.

 

Senantris Tucker

My name is Senantris (Ana) Tucker, and I am earning my master's degree in social work, with a concentration in macro. I graduated with my bachelor's degree in social work in 2021 from the University of Michigan and I am happy to be attending Michigan State University. I am currently interning with the School of Social Work Racial and Social Justice Collaborative. I currently live in Flint Michigan in the downtown area. I have lived in Flint for almost 27 years and before that, I was living in Boston Massachusetts.

I came to have a passion for social work when I was a customer service manager at Kroger in Flint, I worked there for 12 years and decided one day retail management was no longer for me and I wanted to do something more meaningful with my life where I could be a part of fighting against systems that marginalize and oppress different populations of people. I have been blessed so far to have worked through different internships with different populations such as substance abuse disorder and people experiencing homelessness. Working with and in communities has taught me a lot about how different systems work to create barriers for people and I have been able to discover areas that I think would be a good fit for me to work in.

Once I graduate from Michigan State, I will officially start my professional social work career, my goals, once I graduate, are to pursue a career working with racial and social justice organizations to implement change within systems and institutions, that are marginalizing and oppressing different populations of people. I am looking forward to beginning my professional journey and contributing my skills and experience to some of the work that is being done to combat the issues we are facing in our country. I also want to work with the prison systems to help bring change in that area as well. There is a great need for a greater level of rehabilitation and an increase of mental health services offered to all inmates who are incarcerated. I also will look to be working with organizations that aim to create policies and programs for women who enter prison pregnant and give birth while incarcerated. There is a great need for protection of mothers incarcerated and protection for the unborn and newly born babies.

There is a lot to be done in our society with all of the different issues going on today. In our society, we are battling racism, systematic racism, homelessness, substance abuse disorder, over-policing of the Black communities, police killings of Black people, injustices in the criminal justice system, and much more. I am beyond excited to be able to be a part of the social work field and I am looking forward to connecting with different people in the field and different people within my community.
Facilitators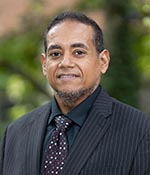 Daniel Vélez Ortiz, MSW, PhD
velezda@msu.edu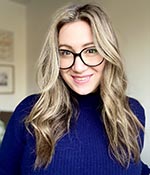 Gina Tremonti Gembel, MSW
tremont3@msu.edu