State House Hearing on Kinship Care
February 19, 2020 - Tony Beyers
The Kinship Care Resource Center is a community program within the School of Social Work. Kinship's director, Alicia Guevara Warren, testified in front of the Families, Children, and Seniors committee of the Michigan House of Representatives on February 19, 2020. The purpose of the hearing was to discuss HB 5443 (Kinship Caregiver Advisory Council) and HB 5444 (Kinship Caregiver Navigator Program).
From the Capital News Service, "Rep. Kathy Crawford, R-Novi, proposed an advisory council to conduct an 18-month study on the needs of kinship caregivers. After the report is published, the council would continue to identify necessary areas of assistance. Alicia Guevara Warren, the director of the Kinship Care Resource Center in the MSU School of Social Work, said relatives are generally preferable to unrelated foster parents, as studies show their responsibility minimizes trauma and keeps more siblings together."
Ms. Guevara Warren's Testimony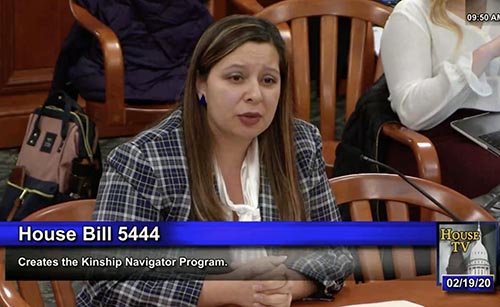 Below is a rough transcript of Ms. Guevara Warren's testimony. You can also view the archived video. Ms. Guevara Warren's testimony appears at the 47:50 mark and runs through 1:04:22.
Good morning, Chair Crawford and members of the committee. Thank you for the opportunity to share information about the Kinship Care Resource Center and our experience working with kinship families across the state. I am Alicia Guevara Warren and I am the director of the Kinship Care Resource Center, a community program within the School of Social Work at Michigan State University. We strive to support and empower all of Michigan's kinship families through responsive information and referral services, education and training, and outreach and engagement with caregivers, service providers and communities to ensure that children in kinship families are safe, healthy, nurtured and loved.
The Kinship Care Resource Center was founded in 2002 by Dr. Robert Little, who was a faculty member at the School, to address the needs of kinship families that were revealed through a series of research projects on programs and policies impacting kinship families. Since its inception the Kinship Care Resource Center has supported families by connecting them with information and resources, and over time has had limited capacity due to funding constraints. Today, with the support of—and in partnership with—the Michigan Department of Health and Human Services, the Kinship Care Resource Center is operating and developing the state's kinship navigator program.
With the passage of the federal Families First Prevention Services Act, came much more recognition and support for kinship families. The law allows for states to draw down federal dollars to support evidence-based kinship navigator programs. When it was passed, however, not one state had yet developed a kinship navigator program that met the evidence-based criteria outlined in the legislation—and there are still no states that have successfully gone through the rigorous process.
To help states eventually access the federal funds, Congress appropriated funding to states to develop, enhance and evaluate kinship navigator programs and encouraged partnerships with third party agencies. In 2019, the MSU Kinship Care Resource Center was awarded funding to develop and launch the Kinship Support program, which includes information and referral assistance through a toll-free number from Kinship Care Navigators, among other activities.
Our navigators are experienced kinship caregivers who strive to ensure that all current and prospective kinship caregivers are supported and connected with resources and services that they need to ensure the well-being of the children they are raising and to care for themselves. Our model is peer-to-peer, where kinship caregivers call and speak with someone who had a similar experience, and we serve all kinship families whether they have a formal placement through child welfare (i.e., foster care) or an informal arrangement outside of the system. To help drive change and broader improvements, our staff also track and share information with the Department regarding the systemic barriers and ongoing challenges that we hear our families experience. The navigator program is very new having only launched in September and is being evaluated and adjusted as we learn more to better serve kinship families in Michigan. In fact, we have an evaluation team at the University that is helping to ensure that the program will met the rigorous criteria to drawn down the federal funds.
The Kinship Care Resource Center is also working with two local aging agencies to provide respite services to kinship caregivers. The Tri-County Office on Aging and the Area Agency on Aging Region 1-B support programs in Clinton, Eaton, Ingham and Washtenaw counties that allow for us to cover expenses related to various activities and programs for children in kinship families to give caregivers time for respite and self-care. One of the major barriers we encounter with these programs is the age criteria; kinship caregivers must be 55 or older to qualify and many of the relatives we work with are under 55 years of age. However, respite is one of the most requested services.
Lastly, I also wanted to share that last week nearly 30 service providers representing kinship care, foster care, early childhood, adult education, legal assistance and policy came together to launch the Michigan Kinship Care Coalition. Our mission is to be an inclusive network of voices collaborating to strengthen and increase support for kinship families through advocacy, increased education and raised awareness to equip all families to thrive. The Coalition is being led by six core members, including the Kinship Care Resource Center, Michigan's Children, Guidance Center's Grandparents Raising Grandchildren, OLHSA's Grandparents Raising Grandchildren and AFSN.
As you've heard, Kinship families have unique needs and challenges as they work through multiple systems that weren't designed to serve them. Michigan has an opportunity to be a leader and provide the support that is so greatly needed so that all kinship families and the children in their care receive all that they need.
Thank you for the opportunity to share today.